Parametric analysis
February 23, 2021
At 2:59 pm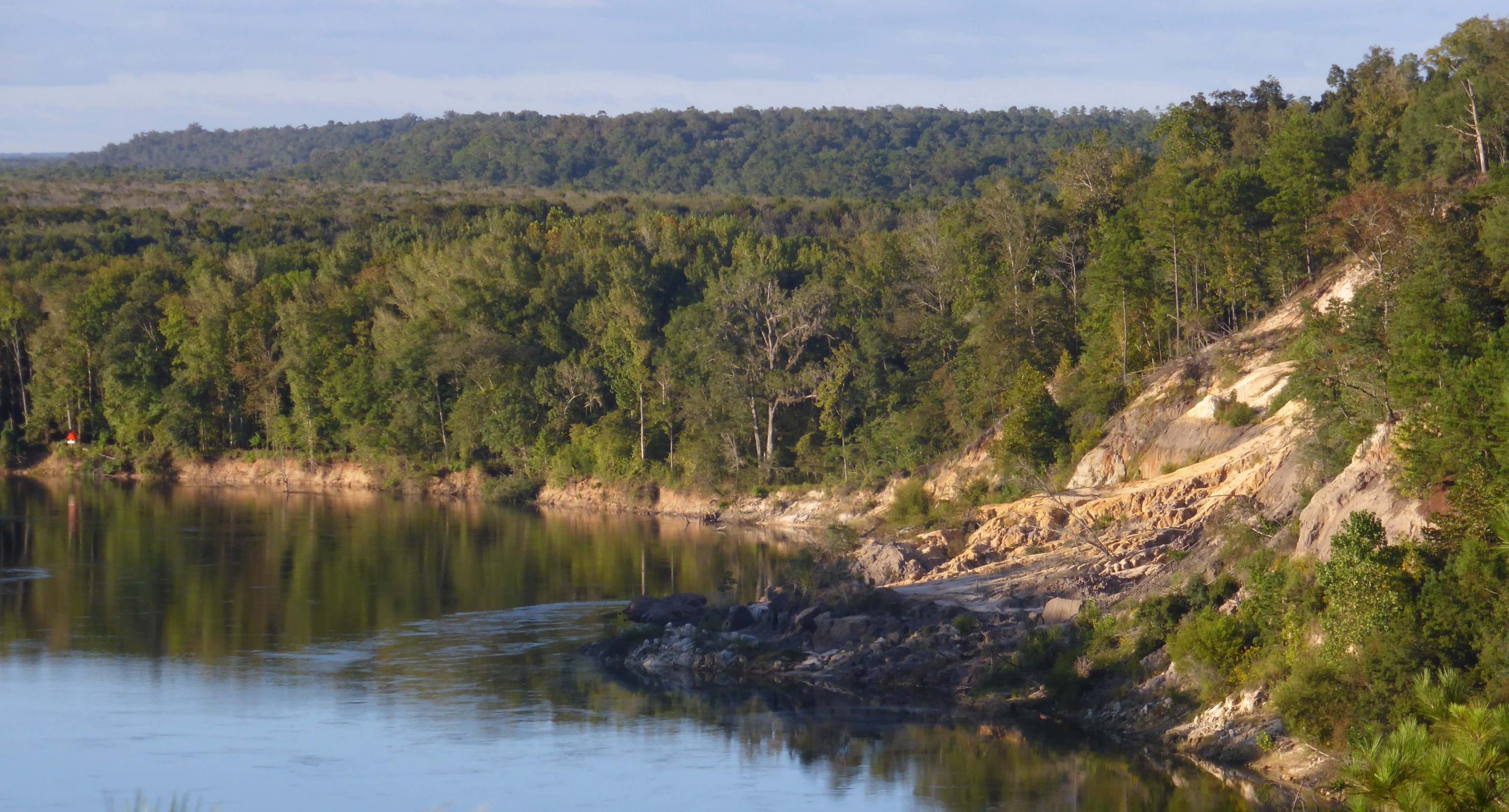 Apalachicola River near Calhoun, Florida (Eleanor via Flickr)
During Monday's oral argument, two competing stories became the focus Florida v. Georgia, This case appeared in the Supreme Court for the second time.As in PreviewThe question is whether the court should issue a fair apportionment decree requiring Georgia to limit the amount of water it uses in the Apalachicola River system so that more water can flow south to Florida.
Florida argues that Georgia's explosive water irrigation has had a catastrophic impact on the oysters in Apalachicola Bay. Florida says that because extremely low flows occur "more frequently," it will benefit from an additional 500 cubic feet of flow per second, because it is considered by Georgia to take no-cost or low-cost measures.
On the contrary, Georgia retorted that Florida has received most of the water from the Appalachicola River system, and that forcing Georgia to reduce its water consumption will severely affect Georgia's economy and will do little to Florida.
If the court decides to issue a decree, more work needs to be done to determine its content. If the court believes that no statute is reasonable, then at least for now, this will mark the end of Florida's efforts. Unlike most other legal cases, under the original jurisdiction of the court, if conditions change, the states can come back at any time to ask the judge to make a new ruling-in this case, the new equitable distribution of water between the states.
As with other Supreme Court arguments during COVID-19, the lawyers representing both sides debated over the phone and had time to make brief opening speeches, and then the judges asked questions in elder order.
When arguing on behalf of the State of Florida, Gregory Garre reiterated the state's claim in a written briefing that the special master Paul Kelly would be dealt with by the court after being appointed by the court Its first ruling in 2018, "Shortened" the court's 2018 instructions, thereby "undermining" Kelly's entire analysis of whether Florida was harmed by Georgia's water use.
The case depends on evidence and expert testimony, and some justices struggled with how to reconcile the apparent differences between Kelly's findings and those of the previous special master Ralph Lancaster. Justice Samuel Alito pointed out: "This is the most fact-based case in our recent memory." "Also, we have two comprehensive reports written by two outstanding masters, but they are not the case-the point raised It may be mild, but not exactly the same on many key points. What should we do?" In response to his and other judges' questions, Garre repeatedly cited records to emphasize that Florida was indeed harmed by Georgia's water use. The court should The case is reopened, and a decree will help Florida.
Injury and causality are important factors in the entire inquiry process. Chief Justice John Roberts pointed out that many factors have affected Florida's oyster fishing industry. Garre believes that water consumption in Georgia is an important factor in the decline of oyster populations. "[T]Garre said: "In fact, there may be causal reasons that do not eliminate causality." Alito and Justice Stephen Breyer then chose this theme, pointing out that the water consumption in Georgia and the overfishing of Florida fisheries caused changes in salinity to oysters There is conflicting evidence for the impact. Garre responded that the evidence suggests that changes in salinity have allowed more predators to enter the current "ocean" environment, and other evidence that changes in salinity have a greater impact than overharvesting. Garre has also repeatedly linked his arguments to the conditions in the court's groundbreaking judgment in 1931. New Jersey v. New YorkThe court ruled that changes in fresh water from New York changed the salinity of the Delaware River and affected oysters in New Jersey.Judge Sonia Sotomayor pointed out to Garre that "the biggest problem in the case is three facts, and these are all provided by your experts." Then she asked about the problem with Georgia. Evidence related to water volume and salinity changes in Appalachicola Bay, and said: "I suspect a 10% change [in oyster biomass] Enough to be regarded as a serious violation of rights. "
Others, including Judge Amy Coney Barrett, asked about the role of the U.S. Army Corps of Engineers, which controls the flow of water on the state line. Garre reiterated that in 2018, the court noted that the Legion would work hard to adapt to the ordinance, and that even an increase of 500 cubic feet per second on the state line would help rebalance the salinity of Apalachicola Bay. Judge Elena Kagan followed up and asked about the number of people with 500 CFS when he pointed out in the briefing that 1,000 CFS was needed. Garre pointed out the record again.
Judges Neil Gorsuch and Brett Kavanaugh also discussed that damage is not only economic damage, but damage to the entire ecosystem. Garre talked about this at the end:[I]It's hard to imagine New England without lobsters, or Chesapeake without crabs, but in reality, this is the future of oysters and other species that Apalachicola now faces. He reiterated that Florida is only asking Georgia to "reduce waste and take more effective measures while irrigating." "
A key point Garre clarified during the oral argument was that Florida focused on the harm caused by irrigation in Georgia. Florida no longer challenges Georgia's municipal water use.
Craig Primis defended the state of Georgia and strongly pointed out that Florida did not prove its case with clear and convincing evidence. The court should overturn Florida's exception to the Kelly report and enter Georgia's record.
The judges again discussed causality and hazards, as well as the potential benefits of reducing water use in Georgia. For example, Roberts asked if 20% of the impact is not enough, is it 40%? 50%? Primis believes that, based on evidence, even if Georgia's upper limit of water consumption is 50%, it will only result in an increase in oyster biomass by only 1.4%. In answering the question about the "disappearance" of water and interstate water in Georgia, he pointed out that the water did not disappear, but the Legion controlled time and flow. The most recent situation was three back-to-back droughts. When Kagan later investigated the Legion's actions, Primis pointed out that any changes to these actions would be subject to public review and administrative procedures.
The judges also asked about the contradictions between the Kelly and Lancaster reports. Primis argued that Kelly was specifically responsible for answering the court's questions and found that 80% of Georgia's farmers used water resources effectively, and that the model used by experts in Florida was "intrinsic" compared to Georgia's field mapping and rights measurement. error". Primis also argued that the court should avoid paying too much attention to how Georgia handles its metering and management plan, so as to avoid becoming a "local water manager." When Gorsuch later asked about evidence, Primis pointed out that Florida had an opportunity to provide more evidence about Florida's benefits, but failed to do so. Therefore, there is no need to open the evidence record further.
When asked about the harm to oyster beds, Primis pointed out that although these beds are natural, they must be "managed and taken care of by humans" and must not be overfished. He agrees that the harm to oyster beds is not only a "pure monetary comparison" like the "gains for farmers in Georgia", but he also believes that clear and convincing evidence is needed to prove that the ecosystem is damaged.Request to compare this situation New Jersey v. New York, Primis argues that this situation is actually different. He said that even assuming 1,000 CFS passes through Florida, oyster biomass will only increase by 1.4%:[I]It is really futile to spend a lot of agriculture to help oysters reach 1%. "
Primis concluded that Georgia's expenses "dwarf the interests of Florida" and that there was no "significant act of serious violation of rights" to prove that the court issued a fair apportionment order.
Garre offered a brief rebuttal, saying that many of Georgia's arguments are "red herrings" with evidence, even 500 CFS will make a difference, and "[w]If there is no law, Georgia will continue to consume more and more water, and Apalachicola will inevitably be lost. "
The full transcript with aligned audio is online, Is expected to make a decision before June.